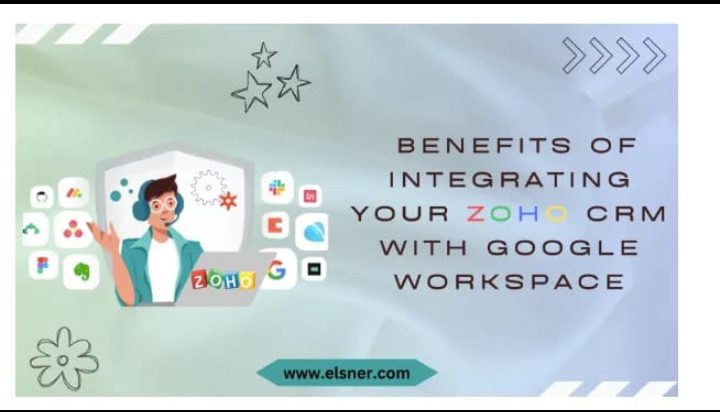 Zoho is widely accepted as an efficient CRM system for businesses. It helps you combine your sales activities, track customer responses, and store all customer data under one roof. But just because you are now proficient in using Zoho CRM for managing and improving your business operations doesn't mean you have to let go of Google Workspace. 
Zoho integrations enable you to integrate its CRM with Google Workspace (formerly G-Suite). With this, you can link all of Google products, such as Google Contacts, Drive, Gmail, and Calendar, with your Zoho CRM. The data sync from Google Workspace to Zoho CRM will be just one click away.
So, this article is dedicated to helping you with the steps you must follow to achieve this integration. Read along till the end.
Why is Zoho CRM and Google Workspace Integration Essential?
Integrating Zoho CRM with Google Workspace enables you to implement easy collaboration and communication of customer data. You can attach the Google Sheets, docs, and email records directly to your Zoho CRM in real-time. Thus, your team members will find it convenient to access them over a single portal and collaborate to get the job done.
Also read: Best Search Engine Optimization Service Provider in UK
Not only that, but this integration will also help you keep the important communication emails with leads or customers in sync with the CRM portal. Thus, every interaction can be viewed comprehensively to make impactful business decisions. There are a plethora of things that you can achieve to enhance CRM efficacy by integrating Zoho with Google Workspace.
Amidst the complex business operations, it becomes very important to have the right kind of data collected uniformly from all sources. Therefore, if your business relies on Google Workforce to operate or collaborate, then it must be integrated with your CRM solution on priority. You can consider getting expert Node JS Web development services to consider getting high-end website development to stand out in the market.
To help you understand its benefits, here is an overview of what you can get through these Zoho CRM integrations with Google services:
Handle all email interactions with your leads or customers from a unified platform.
Get a detailed perspective on the customers' needs by tracking the emails in the Gmail app within the Zoho CRM portal.
You can attach Google Drive files to your emails from the centralized Zoho CRM portal.
CRM appointments can be tagged in Google Calendar for easy collaboration among the team members.
Gain access to Google Contacts through Zoho CRM for conducting business sales easily.
What are the Steps Associated with Integrating Zoho CRM with Google Workspace?
As you know, Zoho CRM is the powerhouse for more than 150,000 businesses. It has greatly helped the owners build positive customer relationships and boost customer retention capabilities. With it, businesses have gained the efficiency of converting leads into paying customers. To enhance the efficiency of the Zoho CRM integration, you can also consider getting Drupal web development services to have Zoho integrated into your website or app right at the time of development.
Additionally, interacting with customers has been made easier over the platform. Customer support, marketing, and sales activities are made easier using this platform. But, to enhance Zoho CRM's capabilities and help it boost your operational efficiency, you must seek integration with Google Workspace.
It would help you nurture more quality leads and close more sales. Such Zoho CRM integrations will help you engage the customers' journey at every stage of availing your products or services. There are different steps for integrating individual Google Apps into Zoho CRM. Here is the overview of what you must do to get them all added to your Zoho CRM:
1. Activate Your Zoho CRM
The first step would be to create an account and portal over Zoho CRM and log in using the required credentials.
2. Add Google Workspace Users
If you are the Super Administrator of Zoho CRM, you can now add the Google Workspace users to Zoho CRM. The system will assign the role of Manager and Users to them by default. Once you have added the users, review the roles and profiles to update them according to the business hierarchy.
3. Import the Contacts from Google Contacts
Go to Zoho CRM > Setup > Marketplace > Google > Contacts to sync your Google Contacts with Zoho's platform. It is important for you to import just the business contacts for easy management of business operations.
4. Sync Gmail with Zoho CRM
The next step is to sync Gmail with Zoho CRM. And you can do this through the UI method of Zoho CRM. Go to Setup > Channels > Email > Email Configuration > Gmail > IMAP. Upon successful integration, every email that comes to your Google Account can be viewed and recorded over Zoho CRM for detailed assessment.
5. Google Drive and Zoho CRM Integration
You can add attachments directly by clicking the 'Google Drive' link under the dedicated sections. When you land on that link, you will be asked to authenticate Google. Click on it, and add your credentials to link your Google Drive to Zoho CRM. Grant access to start adding your files from Google Drive right away!
6. Export the Zoho Events to Google Calendar
You can establish a connection between Google Calendar and Zoho CRM. It is to share the calendar meetings on Zoho with the Google Calendar board. Thus, sharing these meeting updates with the team or other involved users will be easier.
Head to Google Workspace > 'Apps' Icon > More > Zoho CRM. Go to the 'Activities' tab and create a new meeting by clicking on said button. Specify the details and then save & export it to Google Calendar.
7. Export your CRM Tasks to Google Tasks
Similar to what you did for adding your calendar events to Google Calendar, you must again follow the same steps to export Zoho CRM tasks to Google Tasks.
Go to Google Workspace > 'Apps' icon > More > Zoho CRM. Go to the 'Activities' tab, and click 'New Task'. Specify the details, save it, and export it to the Google Tasks.
Bottom Line
There are a plethora of Zoho integrations available for you to connect Google Workspace with Zoho CRM for several benefits. But you don't have to seek all these integrations for your business. Depending on which Google services you use the most, seek respective integrations only.
You can try out different combinations of Google services alongside your Zoho CRM feasibility to see what benefits your seamless business management the most. You can always take the help of experts to understand and do what is needed to establish a successful integration.